The AMB (Metropolitan Area of Barcelona) and the BCN Professional Training Foundation have publicly presented this Friday the nine winning projects of the 3rd edition of the MetròpolisFPLab, held during the 2020-2021 academic year.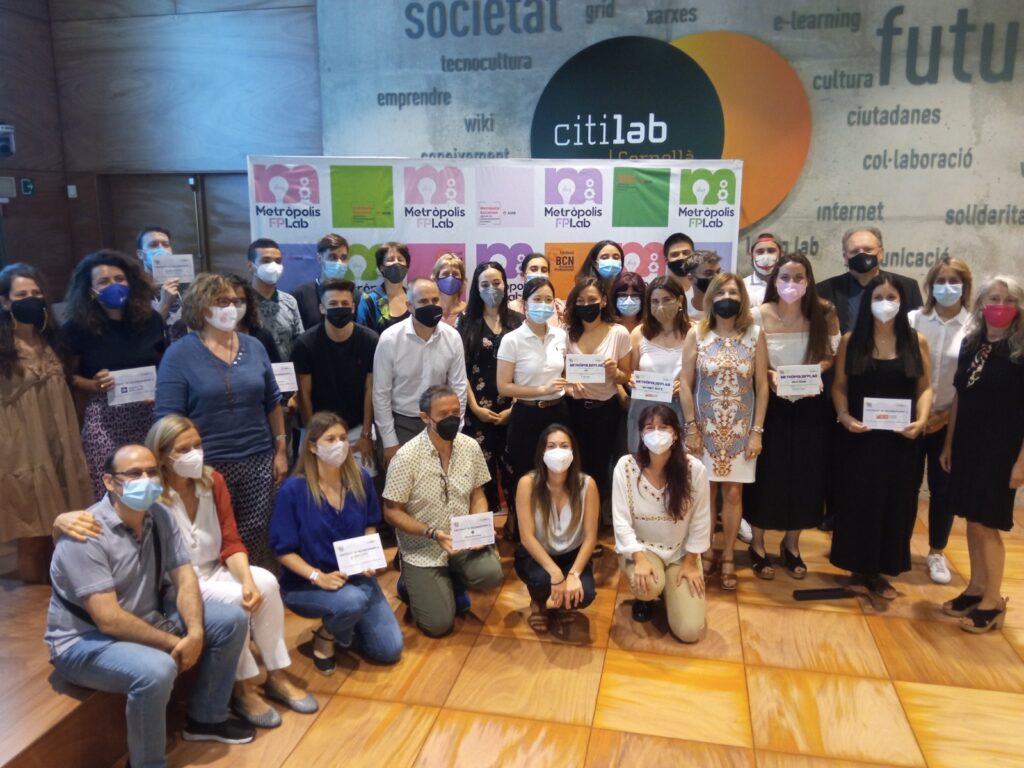 This year, 9 companies and 27 VET centers from the metropolis of Barcelona have participated. Nine winning projects of the third edition are recognized, among which there is a virtual assistant for patients in hospitals, as well as a smart mat that identifies the passengers of a bus to control the ascents and descents.
MetròpolisFPLab is an innovation project that we promote together with the AMB, with the aim of highlighting the talent of Vocational Training students and bringing them closer to the labor market. It aims to promote the acquisition of key competences and promote the employment of young people, through an open innovation methodology in a real environment.
In this edition, 700 vocational training students from the metropolis of Barcelona have participated, which have been organized into 200 work teams. As in previous editions, students have faced challenges posed by each of the collaborating companies in order to find solutions to their needs.
Creativity and innovation have once again marked this edition, with curious proposals, such as the holding of Olympic Games that bring together the 17 objectives of the 2030 agenda, a virtual assistant for patients in hospitals, a virtual gymkhana through the social networks, or a smart mat that detects the identity of passengers traveling on a bus and automatically opens the doors.
The companies that have proposed challenges to the MetròpolisFPLab3 and the winning teams are:
| | | | |
| --- | --- | --- | --- |
| Company | Challenge | Winning team | Project |
| 2030 Agenda | How can we get young people to better understand the 2030 Agenda and get involved to achieve it? | "DICA Team", from the Institut Esteve Terrades of Cornellà | Sustainability workshops given in schools to explain what the SDGs are. |
| Aigües de Barcelona | How can we promote the responsible consumption of water and food to reduce waste? | "Earthfocus", from Escola del Treball of Barcelona | Water-related awareness workshops for young people |
| TMB | How can we improve the user experience to reduce the concern generated at bus stops regarding schedules, incidents, etc.? | "Dream Team", from Institut Francesc Ferrer i Guàrdia of Sant Joan Despí | Interactive screen at bus stops |
| Catalan Institute of Oncology | How can we welcome a patient from the ICO so that they know how to act in the virtual healthcare part? | "Dream Team", from Escuela Santísima Trinidad of Barcelona, ​​ & "Macacos Team", from Gimbernat Formación of Sant Cugat del Vallès | Dual function of the project: web page + application and follow-up of the patient |
| Garcia Faura | What reusable packaging system can we use to protect and truck the windows and facades we manufacture? | "…" from Escola Massana de Barcelona | Modular system for window protection |
| PEMB | How can we educate young people and make their breakfasts healthier and more sustainable? | "Esteve Terradas Finances PEMB 1", from Institut Esteve Terradas i Illa of Cornellà de Llobregat | Mobile app with exclusive recipes and interactive videos so that students can follow routines of healthy habits |
| Circuit of Catalunya | How can we position Circuit of Catalonia through our communication channels to reach a younger audience? | "Skynet guys", from Institut Provençana of Hospitalet de Llobregat | Virtual gymkhana through the different spaces of the Circuit |
| Barcelona's Port | What technical system can be implemented on the bus that crosses the Port so that users respect the areas for getting on and off at the stops? | "JYL", from Institut Joan Brossa of Barcelona | Electronic mat that identifies passengers and enables them to get off the vehicle in restricted areas |
| MB92 | How can we effectively collect floating debris in shipyards taking into account that there are usually moored boats? | Desert | Desert |
The students of the nine winning teams obtain a scholarship of € 1,000 to develop project ideas within these companies for two months, between September and November 2021.
MetropolisFPLab: business innovation to promote the employment of young people.